Strategic Ministry Planning & Consulting
Strategic Ministry Planning is an approach to dealing with the serious challenges that campus ministries face. These challenges require deliberation and discipline on the part of campus ministers and boards if they are to be effectively managed. Campus ministries are in a state of flux and are typically changing. A strategically managed campus ministry is one that defines where it wants to be and manages change effectively through an action agenda to achieve that future.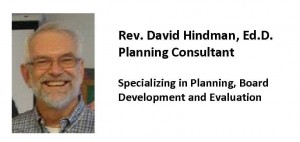 David is deeply committed to the church's ministry in higher education. For 22 years (1988-2010) he was the United Methodist campus minister at the Wesley Foundation at The College of William and Mary in Williamsburg, VA; he retired in 2015 following five years serving as the Lead Pastor at Duncan Memorial UMC on the campus of Randolph-Macon College (R-MC) in Ashland, 2010-2015.
While at Duncan Memorial UMC he was part of a long range planning process that proved to be immensely helpful to that congregation, including its ministry with R-MC. He recently provided long range planning support to the UVA Wesley Foundation helping them to articulate a vision that was faithful to the kind of community they believed God called them to be and responsive to the spiritual needs of those they hoped to serve. He worked with committees helping them establish specific and measurable goals to implement the vision. (Letter of Support). In addition to planning he is available to assist in the areas of fund raising, campus and community outreach, mission and board development and evaluation.
If you believe that the strategic planning process would be beneficial to your ministry, or if assistance is needed in the other areas mentioned,  David would be willing to work for an hourly rate or an alternative arrangement that would make the process attractive and feasible.  Contact David at dthindman@aol.com.