Outreach and Development
Outreach (Friend Raising) and Development (Fund Raising) go "hand in hand).  It is recommended that a co-chair for each be appointed.  Outreach focuses on building your campus ministry network.  Development focuses on implementing  programs and strategies to generate private giving and other forms of financial support from district churches, church related organizations, college organizations, community organizations and general fund raisers to support the foundation.
Getting Your Board Involved – This exercise is a first step. If your board members are not involved, your success may be limited):
A Development/Fund Raising  Proposal for Your Campus Ministry
Recommend you review the proposal. It contains the following:
Explanation of the Types of Funds
Understanding Why People Give and Stop Giving
Examine Your Vision and What is Needed to get there
Establish a Dedicated Outreach and Development Team
The Tools for Effective Friend and Fund Raising
Identify Your Constituents and Develop a Support Plan
A Recommended Annual Calendar for Fundraising
Identification – Cultivation – Solicitation – Recognition
PowerPoint (A Fund Raising Proposal)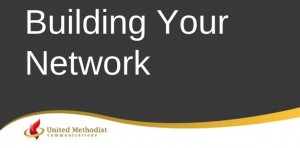 Outreach: Your Campus Ministry Network is essential to sustainability.  The following provide some recommendations for connecting with District Resources, and Alumni.
District Outreach: All of our Virginia Conference campus ministries are a 'district ministry," In this role our campus ministers, student leadership teams and boards are expected to establish contact with their district churches and church groups (UMM/UMW/Adult SS Classes). Meet and talk about your ministry, have students tell their story, explain what churches and church groups can do to support your campus ministry (Handout – What You Can Do), send letters to the church groups and include interest cards (Church Group Interest Card).
Publicity: Newsletters are an important part of outreach and development. They should be sent to all those who support your ministry – your alumni, friends, and district church groups. Ask your district churches to include a link to your ministry on their web site.

Web Site Currency: Your students may not refer to your web site (beyond their freshman year) but those in your "network" examine the page to reinforce (or not) their commitment to support your campus ministry.
Alumni: Our campus ministry students "graduate" to become our campus ministry alumni. They are the disciples that are changing the world. They are part of your continuing ministry.  Your "core" students form the basis of your alumni list. Keep in contact (other than donor requests). Schedule Homecoming Open Houses, have alumni "ambassadors" that maintain a connection with year groups, schedule annual alumni events in locations that have a large alumni population, send personal notes from students to those who financially support the ministry – as part of your network – solicit feedback.
Grant Writing – Another valuable financial resource are the  grants that are available through the Virginia Annual Conference, the United Methodist Church and beyond. See the Grant Writing page on this web site
Additional Resources
For Local Churches – Higher_Education and Campus Ministry
A Comprehensive Guide to Fundraising – This is really the "how to" handbook for fundraising.  It covers the following topics:  (Download the Guide )
What is fundraising?
Create a mission statement
Building your donor base
The annual or sustaining fund
Putting a wrap on the annual fund
Direct mailing
Improve your direct mail program
Writing a fund raising letter
Donor stewardship
Considering a phonathon
Ready, fire, aim
Laying out a timeline for a campaign
Doing a feasibility study
Tracking donors
Visiting you donors
Examine your money culture