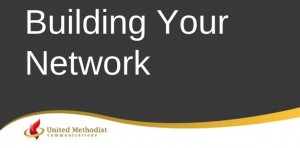 Your Campus Ministry Network is essential to sustainability.  This page provides resources for explaining the critical mission of campus ministry (Interpreting Campus Ministry), and recommendations for connecting with District Resources, and Alumni.
Interpreting Campus Ministry: The following are scholarly reports and articles from the General Board of Higher Education and Ministry and can serve as valuable resources for communicating the importance of campus ministry.

Approaching Campus Ministry as an Emerging Mission Frontier
This was the opening presentation at the August 22nd 2015, BHECM Training Forum for Local Boards. This presentation and handout explains why it is an emerging frontier, why it is strategic and the need to shift from a traditional  to a "missional" approach in campus ministry:
District Outreach: All of our Virginia Conference campus ministries are a district "ministry,"  In this role our campus ministers, student leadership teams and boards are expected to establish contact with their district churches and church groups (UMM/UMW/Adult SS Classes). Meet and talk about your ministry, have students tell their story, explain what churches and church groups can do to support your campus ministry (Handout – What You Can Do), send letters to the church groups and include interest cards (Church Group Interest Card)
Publicity: Newsletters are an important part of outreach and development. They should be sent to all those who support your ministry – your alumni, friends, and district church groups. Ask your district churches to include a link to your ministry on their web site.

Web Site Currency: Your students may not refer to your web site (beyond their freshman year) but those in your "network" examine the page to reinforce (or not) their commitment to support your campus ministry.
Alumni: Our campus ministry students "graduate" to become our campus ministry alumni. They are the disciples that are changing the world. They are part of your continuing ministry.  Your "core" students form the basis of your alumni list. Keep in contact (other than donor requests). Schedule Homecoming Open Houses, have alumni "ambassadors" that maintain a connection with year groups, schedule annual alumni events in locations that have a large alumni population, send personal notes from students to those who financially support the ministry – as part of your network – solicit feedback.